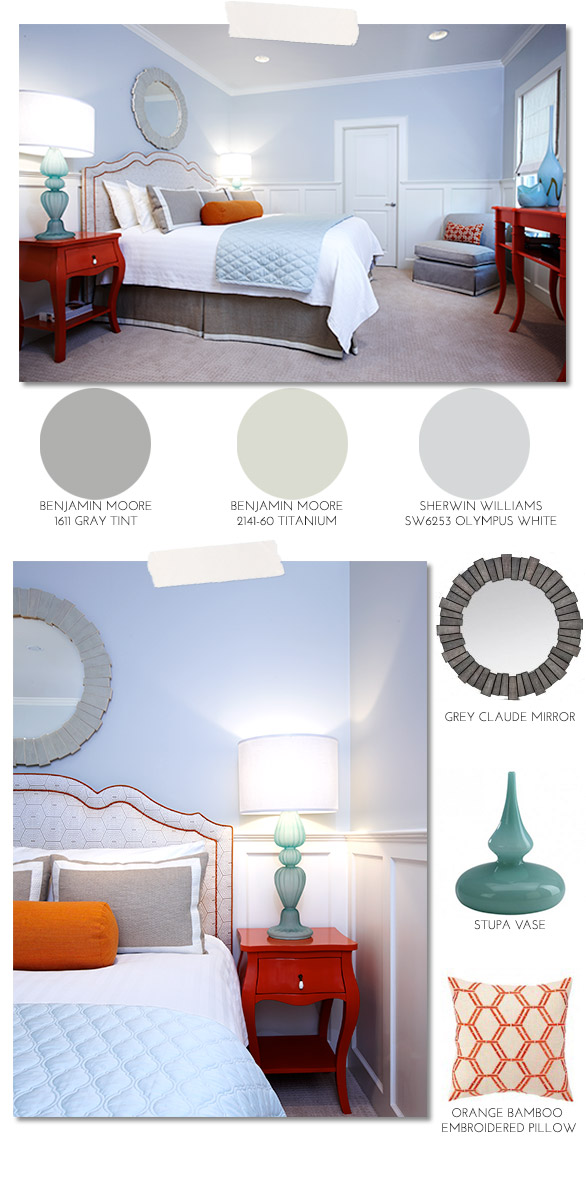 Interior Design by Pulp Design Studios
In today's Sourcebook series entry, we're highlighting one of Pulp Design Studios' #Cowtown Chic Guest Bedrooms.  With the design team's background in hospitality and hotel design, Pulp Design Studios selected just the right mix of color, furnishings and accessories to create a beautiful and relaxing stay for any guest.
By selecting a cool gray wall color and contrasting with bold orange and turquoise accents, Pulp Design Studios kept the space from feeling too ethereal.  Creating custom designed pieces and redesigning special heirlooms made this space truly unique and individual to the client.
cowtown chic guest bedroom swatch play:
Benjamin Moore 1611 Gray Tint
Benjamin Moore 2141-60 Titanium
Sherwin Williams SW6253 Olympus White
get the look:
Shop some of the inspired furnishings and accessories.
Orange Bamboo Embroidered Pillow
see the interiors:
See the rest of Pulp Design Studios' Cowtown Chic project.
Whether you just love what we do and want to create it for yourself or you have a space that you'd love to get the 'Pulp Treatment', we hope that his series inspires you to live more beautifully.  And if you'd like to hire us (And, really…you should hire us!  wink. wink.) get in touch and tell us about your project!
Note: Color is in essence, reflections of light and one's surroundings.  As a result, the color you see in our client's space would certainly translate differently into your own.  If you are not working with a designer, play with paint samples on various walls in your own space to see if you get the effect you want.  We would also be glad to provide you with a consultation if that would be valuable.  We want your space to reflect its own beauty and your style.