We're all looking for ways to settle into the new fall season, both in our wardrobes and our home. Today, whether you have a stylish Pulp designed home or not, we're sharing how to transition your home to fall along with a few great items to help you achieve it…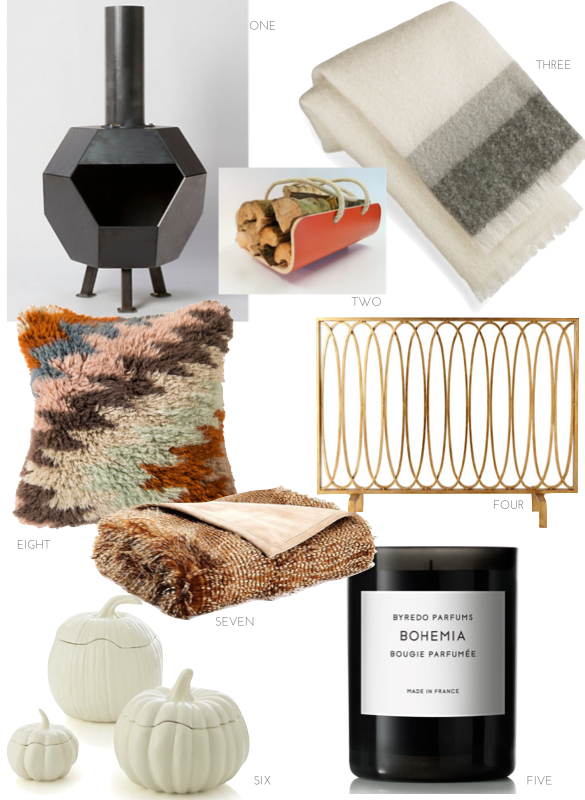 5 Ways to Transition Your Home Into Fall
1. Add additional layers to your living room with cozy throws and pillows in warmer knits, textures and seasonal colors.
2. Decorate with seasonal touches such as vegetables and florals.  This is a easy way to dress up a table top or entry way. Use pumpkins, gourds, fall leaves branches and feathers.
3. Make your outdoor areas cozy with fire elements and layer exterior seating with pillows and throws.
4. With shorter days and longer nights add a warm glow with some candles.  Woodsy scents can enhance that cozy Fall feel.
5. Change out your bedding from lighter summer weighted linens to heavier warm down comforters, blankets and quilts.
SHOPPING GUIDE
ONE: Prism Steel Chiminea  |  TWO: Modern Log Holder / Carrier  |  THREE: Peacock Alley Cape Town Solid Throw  |  FOUR: Concordia Fireplace Screen  |  FIVE: Bohemia Bougie Parfumée Scented Candle  |  SIX: Pumpkin Servers  |  SEVEN: Faux Fur Throw & Blanket, Brown Owl Feather  |  EIGHT: Wool Beige & Mint Pillow