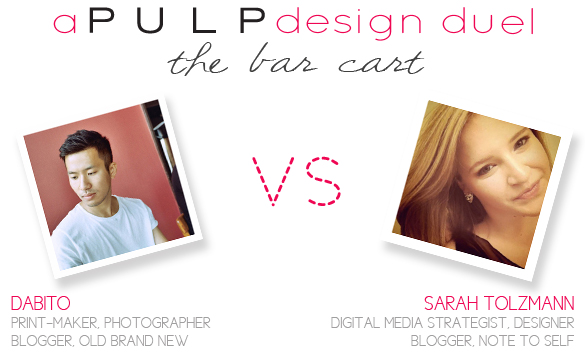 Cheers to another edition of the PULP Design Duel! This month's contestants need no introduction. You may have heard of Dabito from Old Brand New and Sarah of Note to Self… well, of course you have!
Please welcome them to Hello, Splendor as they "duel it out" over their individual take on the bar cart.
Today's duel…
The Bar Cart
Dabito of  Old Brand New
Dabito epitomizes the ideas of craft, simplicity, comfort, and honesty. All of these things are evident at first glance through the styling and photography on his beautiful blog Old Brand New. His succinct commentary lends an air of mystery to his online persona but I can tell you from experience that Dabito is anything but distant. He is kind, approachable, and (of course) endlessly talented with all things vintage!
VS
Sarah Tolzmann of  Note to Self
Sarah Tolzmann is a wiz with graphics and branding. Her contributions to Matchbook Magazine are enough to speak for themselves. But this is a girl who frequently outdoes herself and her other side project, the elegantly curated blog Note to Self, is no exception. In addition to her online prowess, Sarah is simultaneous completing her MFA at SCAD in Design Management… she's totally killing it too!
ding. ding. ding.
Dabito's Picks: Aldo Tura Bar Cart | French Gimlet | Couroc Poppy Glass | Tangerina Ice Bucket  | Copenhagen Carafe | Kilim Coasters from Sukan| Monstera Deliciosa | Sharon Jones & The Dap Kings How Long Do I Have To Wait For You?  (The whole record is pretty fabulous.)
Sarah's Picks: "The Sedgwick" from Society Social | The Elderflower Mojito | Kate Spade Larabee dot highballs | Vintage Ice Bucket | Mid-Century vintage decanters |Kate Spade creature coasters | Hydrangea | Ash Reiter – Paper Diamonds
Who has YOUR  favorite look?