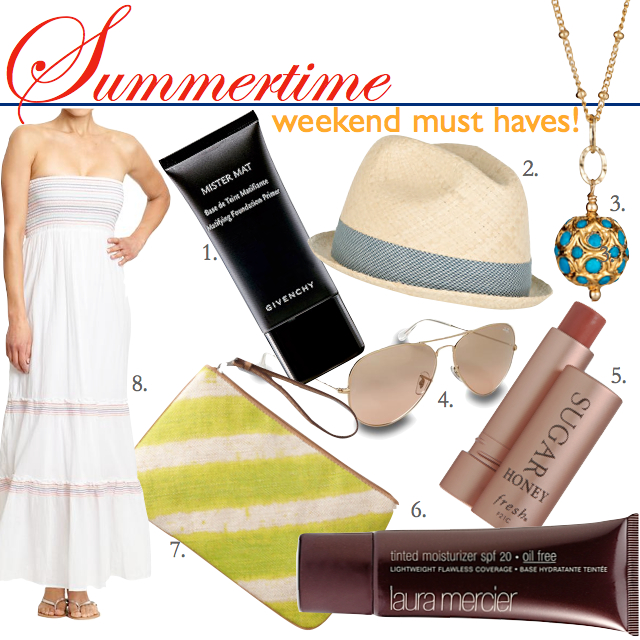 I love summertime and it's officially here! In Dallas, it's already super H.O.T so I was thinking about some of the things I can't live without when it's hotter than Hell out.
1.) If you're into makeup and you haven't tried this you are going to D.I.E. This Givenchy foundation primer is the best primer I have ever  found!  It leaves your face silky smooth and keeps you shine free all day.  You must try this!
2.) The Straw Fedora is a great way to keep the sun off your head and look stylish at the same time.
3.) Any gold and turquoise combo necklace always looks great in the summer. Especially on tan skin!
4.) Classic Ray Ban Aviators…of course!
5.) I absolutely love this Sugar Lip Tint with SPF15 from Fresh! It comes in a couple of colors but the honey is my fave!
6.) Sunscreen is a must and if it's already built into your makeup it's always a plus. I love the light feeling of  Laura Mercier tinted oil free moisturizer.   Perfect if you have oily skin and even better with a foundation primer.
7.) When you don't want to carry a heavy bag grab a colorful wristlet.
8.) Fresh white dresses always remind me of the summer.  I have this Old Navy dress (so you know its not $$$) and its totally light and gauzy which means you can wear it on the hottest of days and not look like a slob!
What's your favorite summertime must have?